Your Quinten-Art is made of the highest quality porcelain. To ensure the heat can escape the double-walled interior when it cools, it has a small opening in the bottom.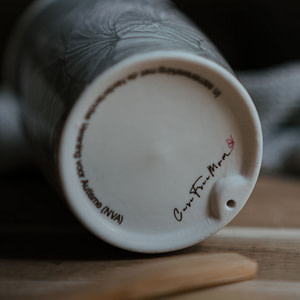 If you put the mug in a dishwasher or submerge the mug when you wash the dishes, water can enter the double-walled layer and slowly leak out.
Therefore it is best to rinse the mug by hand, and to:
Not put your Quinten-Art mug in the dishwasher
Not submerge your Quinten-Art mug in water
If you accidently put your mug in the dishwasher, fear not! You can easily remedy this, by doing one of the following:
Shake the water out of the mug
Pour hot water into the mug while it sits on a cloth to absorb the water coming out
Put the mug in a skewed position with the little hole closest to the surface with an absorbing cloth underneath and just let gravity do the work for you
If you give your mug the above tender, love and care you will make it very happy.
If you have any questions about your mug